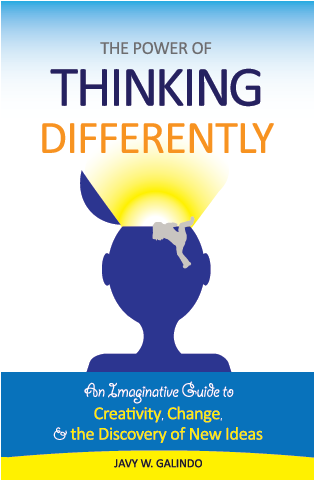 Life can be challenging, but now we have a manual for finding creative solutions to every problem.
Discover an inventive new world of creative possibilities by harnessing The Power of Thinking Differently: An imaginative guide to creativity, change, and the discovery of new ideas. It's the creative thinking textbook for those who hate textbooks.
Whether it's dealing with a career change, financial issues, relationship issues, global issues, artist blocks, or the need to keep your business innovative and ahead of the competition, we often find ourselves stuck and in need of a new perspective. While creative solutions can sometimes seem elusive, we all have the ability to attain new ideas and creative insights. All we need is a map to show us the way to rediscovering our brain's inherent creativity.
That map is finally here. The Power of Thinking Differently is not just a book of thinking strategies and creativity exercises. In this groundbreaking work, the author explores the latest research into the neuroscience and psychology of creativity while lightheartedly guiding the reader through the universal stages of the creative process. This ultimate creative thinking guidebook covers topics such as lateral thinking, technological innovation, artistic creativity, scientific breakthroughs, mental illness, spiritual transformation, and the deepening of personal meaning. It exercises the imagination through humor, analogy, engaging puzzles, and a fanciful tale of heroic adventure. The result? College Psychology & Philosophy instructor Javy W. Galindo teaches us how to think beyond our habitual thinking patterns in order to rewire our brains to think differently.